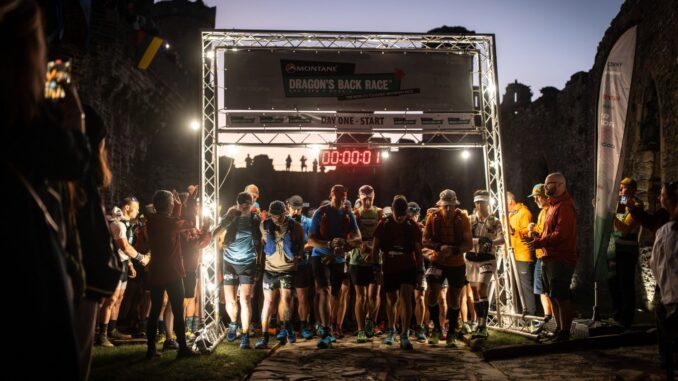 The Dragons Back Race is a 6 day 380 km, 236 mile stage race that traverses the mountains of Wales. It is one of the toughest ultramarathons in the world, with over 17,000 feet of elevation gain. Runners must navigate their way through unmarked challenging terrain from Conwy Castle in the North, over the Snowdonia massif, the Canbrian Mountains and the Brecon Beacons, Bannau Brycheiniog, in South Wales finishing in Cardiff Castle.
The Dragons Back Race is a test of endurance, mental toughness, and navigation skills.
The Stages
Stage 1 Conwy Castle to Nant Gwynant 49km (30.5 miles) | 3800m (12,467ft).
Stage 2 Nant Gwynant to Dolgellau 59km (36.5 miles) | 3400m (11,155ft)
Stage 3 Dolgellau to Ceredigion 70km (43.5 miles) | 3400m (11,155ft)
Stage 4 Elan Valley 69km (43 miles) | 2300m (7,546ft)
Stage 5 Bannau Brycheiniog (Brecon Beacons) National Park 70km (43.5 miles) | 3200m (10,499ft)
Stage 6 Talybont reservoir to Cardiff Castle 63km (39 miles) | 1300m (4,265ft)
The race was first held in 1992 and relaunched by Shane Ohly and Ourea Events in 2012 as a 5 day stage race and first held as a 6 day in 2021 extending to a finish line in Cardiff Castle.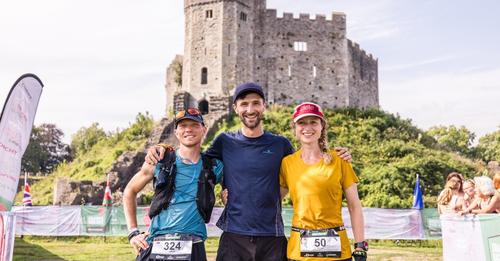 After 380km of epic mountain running, Hugh Chatfield and Robyn Cassidy are the winners of the 2023 Dragon's back Race® after both leading from the first day.
Top 3 women
Robyn Cassidy (GBR) (54:25:05) – 3rd overall

Alyssa Clark (USA) (59:15:03)

Silvia Ainhoa Trigueros (ESP) (61:31:42)
Top 3 men
Hugh Chatfield (GBR) (47:38:44)

Jakub Wolski (POL) (51:11:04)

Tristan Stephenson (GBR) (56:36:25)
Links
Final day report: Victory for Robyn Cassidy and Hugh Chatfield after one of the toughest races in Montane Dragon's Back Race® history
Race website: www.dragonsbackrace.com
Results: results.opentracking.co.uk/event/dragonsbackrace2023
See also:
Ultras in Wales